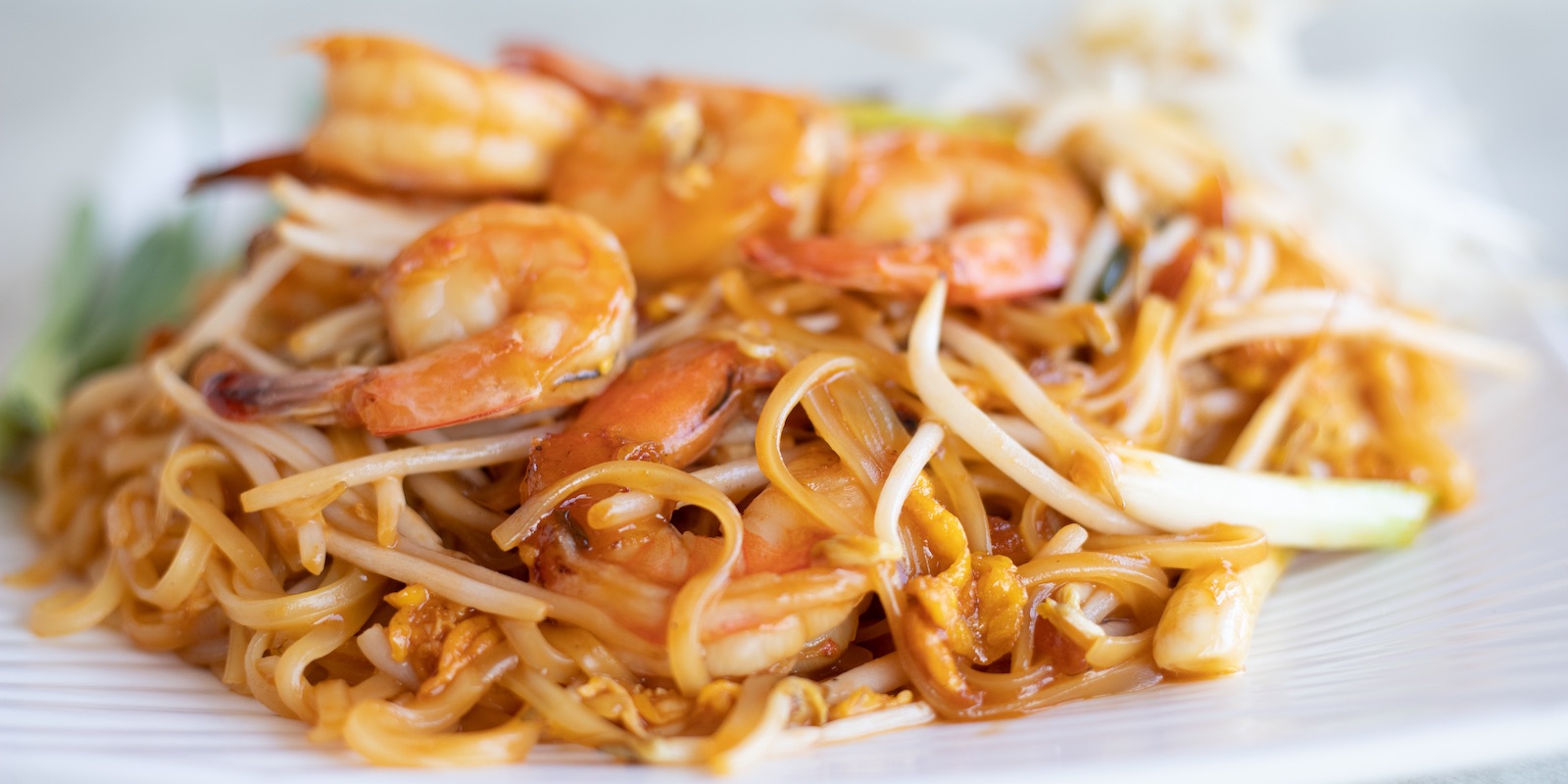 It doesn't happen that often, but it did last night. I created a complete culinary disaster for dinner when I made my 2nd-ever attempt at making Phad Thai. After over two weeks of no takeaway being available due to #lockdownSA, we'd gotten into kinda a rut of what we were eating. One of the things we eat pretty-much at least every other week, but mostly on a weekly basis, is Phad Thai, so, having found the required ingredients at the grocery store last week, I decided that I'd give it a go.
Now, the first time I tried was probably almost 13 years ago. It too was a disaster. So much so that I put it in the "too hard" bucket and decided that it wasn't worth the hassle—especially since it was pretty easily accessible from nearby restaurants, and I'd successfully cracked the code of Gaeng Keow Wan Gai (Green Chicken Curry), which I generally prefer anyway.
But yesterday, after a pretty sever case of PT-withdrawl, I decided that it was time. So, I got out the recipe I wanted to try, and I set to it. I mean, I can cook—well, most of the time, it seems. So what's the big deal?
And then I thought to myself those words that are most often said right before something really bad happens:
"How hard could it be?"
I mean, c'mon…it's fried rice noodles, with some vegetables, chicken and the sauce. I stir-fry all the time.
But the trick is the sauce…and the noodles. Because if you follow the directions on the pack to revive them, they're going to be too tough. And if you don't nail the exact flavor balance of the sauce, you get…something else.
Anyway, on top of it all, it seemed my last shallot was gone, and in my haste, I forgot to add the onions as a substitute…
…and even in following the directions, the sauce just didn't turn out "right."
I ended up crunching through my partially-cooked noodles and strange-tasting sauce anyway because I was hungry…
…and fortunately, the fall-out was contained to only my wife—who was well aware this was an experiment, so she didn't have overly-high expectations that it'd taste the same as our regular takeaway.
But still, it was a spectacular failure.
And despite having plenty of tamarind concentrate and another pack of noodles waiting in the wings, the choice I have to make is whether I try again or not.
So why am I bothering to tell you all this?
Well, as I was making a valiant effort in my mind to tell myself that it wasn't actually…crunch…that bad…crunch…crunch…
…the facts were that, had anyone else made it and tried to pass it off as Phad Thai, I would've either sent it back or politely declined.
As it turned out, I just wasn't prepared.
I thought I was…but, clearly, I wasn't.
And that made me realize that this kind of situation could've been avoided if I'd had a bit more assistance and oversight from someone who had actually successfully created the dish before.
They could've demonstrated the specific flexibility required in the noodles as they steeped in the lukewarm water so I'd understand their "Goldilocks moment" and avoided trying to use them too soon…or waiting until they were too soft so they just ended up a sticky, gooey mass in the bottom of the wok.
They would've helped me ensure that the key ingredient – the sauce – was exactly the perfect balance of sweet and sour, and they would've been able to do it based on the equipment and ingredients I had at hand…
…because they had a mental image and sensory taste memory of exactly what they were after, giving them the ability to adjust as required based on different sugars, different fish sauce characteristics and the exact flavor of the tamarind paste brand I was using.
In fact, that's exactly what a coach does, and boy, I could've used one for this—not to mention because I didn't hit the target, but mostly because I know that it's going to take me at least 3 or 4 more times to play with things scientifically varying each element until I come up with what's going to work for me.
What I see in far too many organizations, and in many of the conversations I have with practicing security architects, CISOs and other security leaders is that they feel compelled to take a more conservative approach to changes they need to make in their security program because they don't really have the right kind of support—even when they think they do.
They may have tried to roll out a new framework, methodology or tool – including SABSA – and had their own spectacular failure—with too wide an audience that didn't really have the right expectations.
And while it served to make the team even more gun-shy about these kinds of changes, it also took a healthy chunk outta the existing credibility the team had, putting them at least 2, 5 or even 20 steps backwards the next time they wanted to make a change.
Now, you might argue that what I'm talking about here is a failure of organizational change management, and you'd be right. This is unfortunately true more often than not, but it goes beyond where traditional change programs stop—the "adoption" where all the people have new roles, all the documentation's been written, all the personnel have been "trained" on the new organization…
…and the consultants ride off into the sunset with a hearty, "Heigh-O, See Ya In 6 Months for another $6 million!"
Thanos-style change only happens in the movies. Real change takes time, and it takes a level of support most people don't have to allow you to break down the new stuff into small parts that you can practice – and fail – safely. So you can build your confidence without risking your credibility.
That's exactly the kind of thing a good coach and mentor is able to do, and that's exactly what our Effective Security Leadership Program is all about. It's about giving you the practical, timely and focused support you need to accomplish your objectives—whether they're personal skill and leadership development objectives, delivery of a given project or initiative, or the wholesale transformation of your entire security program.
I know it works, because I've been doing it for a long time—even before it was carved out of our previous, more traditional consulting engagements that cost 2-6 times more.
What I don't know is whether it'll work for you…in your current situation, and for the objectives you're trying to accomplish—not because I don't know what I'm doing, but because there are a lot more factors than experience that determine success. The biggest one simply being your willingness to make a decision and having the commitment to stick to it, even though things might not be that easy.
If you're ready to make the commitment to changing the way you and your security program works for the better, but you just don't know how to take the next step, let's talk about it. On this call, we can see where you are and whether or not I might be able to help you.
Here's the link you need to set it up:
https://securityleadershipcoaching.com
And if I can't, that's perfectly ok. The program – or me, for that matter – aren't for everyone.
Stay safe,
ast
—
Andrew S. Townley
Archistry Chief Executive