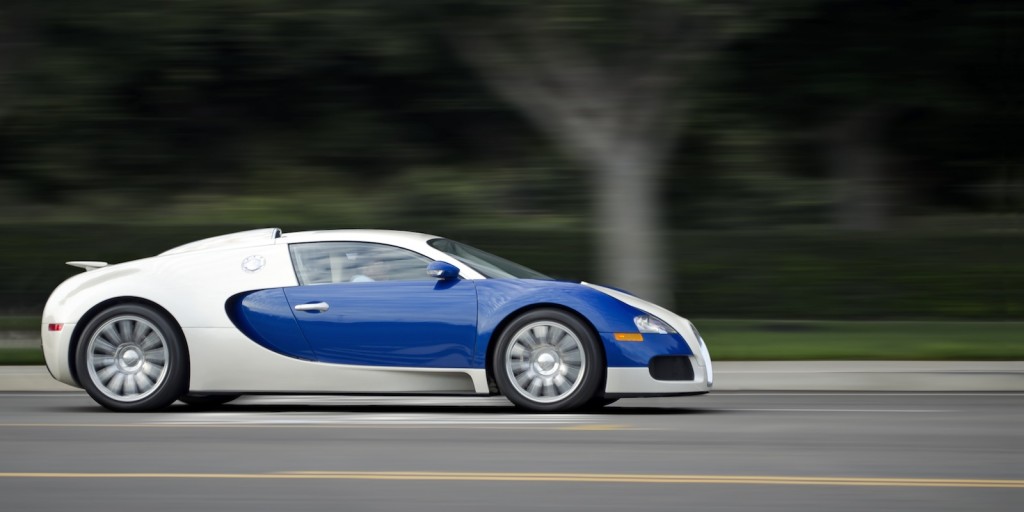 If you answered "nothing," you may be more correct than you want to be—just not for the reasons you probably expect.
How's your organizational performance?
Is it reliable?
Is it predictable?
Is it exceptional?
In the automotive world, the ultimate achievement in the quest for exceptional performance currently belongs to the Bugatti Veyron. It is nothing short of a marvel of automotive engineering—especially considering that after VW bought the Bugatti brand in 1998 and set out to build a 750kW/1,000bhp production car capable of a 400kph/200mph top speed, they were venturing into the unknown with no certainty of success.
After giving the go-ahead to build the car, it still took two more years before the first roadworthy prototype was delivered. Another two years passed before all of the engineering problems were solved and full-fledged production could start in 2005—six years after the original concept was presented.
That's right: it took two years just to solve all the engineering problems for one car.
To solve the cooling issue caused by an engine developing 750 kilowatts of power, the car has not one but 10 different radiators.
To solve the problem of effectively applying all 750 kilowatts of power to the road apparently took a team of 75 Ricardo engineers to ensure the dual-clutch transmission was up to the task, and it required development of an entire new tire compound by Michelin that could withstand the 100ºC temperatures of cruising at the car's 400kph top speed.
The point: the Veyron didn't just happen by accident. It is the result of precision automotive engineering to ensure the Veyron delivers exceptional performance—every single time you turn the key.
Achieving exceptional performance in your organization won't happen by accident either, yet all too often, that's exactly what we expect.
Engineering: the essential ingredient
A relevant definition of the word "engineer" highlights why engineering is an essential requirement of exceptional organizational performance:
[to] skilfully arrange for (something) to occur
Engineering then is the process by which we "skilfully arrange" an outcome within a given environment. In this case, the environment we're talking about is the often highly-volatile global business environment. It's a dynamic environment, and therefore we need to be able to detect changes in the environment, make decisions in reaction to those changes and then take actions that implement those decisions.
The actions we take then cause new changes to our environment, which naturally starts the cycle all over again. It's a continuous process.
Let's say we're driving our Veyron at the modest speed of 160kph/100mph on a lovely day through breathtakingly beautiful mountains along a road that defines "the perfect mountain road." Every second, we see changes in the exterior environment through the windows, we see changes in the interior environment of the car through the dials on the dashboard, and we feel changes in the terrain under the car through our seat and our hands on the steering wheel.
We sweep around a long, left-hand mountain bend and immediately see we've apparently discovered the practice course for next year's Tour de France bicycle race.
What do we do?
Hopefully, we choose not to either mar the paint on our shiny Veyron with a few dozen cyclists or test the Veyron's ability to impersonate an airplane by crashing through the barrier and careening over the rather substantial drop to the valley below.
Instead, we hit the brakes and glide effortlessly to a stop, mere inches from some rather startled biker bums, averting physical harm, preventing massive increases to our insurance premiums and avoiding becoming the star of international newspaper headlines.
What really happened here?
We were able to manage an unexpected situation thanks to the diligent and exacting work by many VW engineers providing us with a very pretty, very powerful and extremely expensive control-feedback loop.
Our desired outcomes of not causing personal injury, increased operational costs or reputational shame and embarrassment were achieved because we could control a highly complex system – our Veyron – in an unpredictable environment, played by our lovely mountain road. We had everything we needed, and our Veyron did exactly what it was designed to do: respond quickly and effectively.
Every piece of the car responded in a predictable way in an unpredictable environment.
Deliberate engineering enables exceptional performance
Not only did our Veyron respond predictably, but it did so in fractions of a second—otherwise, we'd have had some rather unhappy cyclists.
There's no point in putting the time and effort into engineering a complex system if you have no time to make decisions, and, by the time the decisions have been communicated to where they need to go, the actions no longer make any sense. Performance criteria for the necessary time to make decisions and the time taken to turn those decisions into action are also critical parts of successfully engineered systems.
A supercar capable of 400kph didn't follow "best practices" or copy someone else's blueprints. It was engineered from scratch to achieve a very specific set of objectives.
If you want your organization to have exceptional performance – not just once, but every day – then you need to figure out exactly what matters to you, in your own business environment, and then engineer the right systems for monitoring and measurement, decision making, and control so that they deliver the performance you expect within the culture of your own organization.
Monitor and measure what matters
You need to be able to monitor and measure changes in your external business environment that will directly impact achieving your strategic goals and objectives. You also need to be able to monitor and measure the operation and performance of your internal processes and functions so that you know you're consistently working towards delivering your strategy. It must be both, not just one or the other.
This monitoring and measuring against your strategic goals and objectives – both internally and externally – tells you how close you are to your expected outcomes. It shows you how you are detecting the deviations from those outcomes. It shows you how well you're managing the risk to your strategic goals and objectives.
Monitoring and measuring gives you the information you need in order to react timely to unexpected deviations in your internal and external environment. If you get the information, but you no longer have time to act, then your information is useless.
In our Veyron example, you're already cutting a furrow through a field of cyclists or breaking through the barrier and free-falling towards the valley floor by the time you get the information that the road ahead isn't clear. At that point, it doesn't really matter how good the brakes are now does it?
How can you expect to deliver exceptional performance when you don't have time to think?
Make the right decisions
Once you have the information, you need to be able to make decisions. It means that the right information flows to the right people – with the required authority and at the right time – so that the right decisions on how to act in response the observed deviations from your expected outcomes can be made. It means that these decisions aren't based on personal biases, preferences or "what's going to look good on my CV."
It means those decisions are made within a framework defined by the organization's goals and objectives; its principles; its compliance obligations; and within the organization's risk appetite – the clear understanding of how badly the organization wants a given outcome – so that the organization as a whole stays on course. In other words: it reacts predictably to uncertainty. If you have no idea what to do; if you react different ways to the same type of situation, the results are unknown—you've not a clue where you'll end up.
Back in our Veyron, you panic. You're not sure you can stop in time. You're not sure you can't go around the cyclists. You think the barrier will stop you from going over the edge. You freeze. You're lost, and your uncertainty and inability to know what to do wins you and several cyclists an appointment with St. Peter at the Pearly Gates.
Do not pass "go". Do not collect $200. It's over. You don't have another chance, and you've lost the opportunity to learn from the experience. You can't do better next time, because there isn't going to be a next time.
How can you expect to deliver exceptional performance when you don't know how to act?
Trust your controls
You have the information you need, and you know what to do. Now you need to have the confidence the actions you take are going to actually happen. Not only that, you need the confidence they're also going to happen in time to influence the change in the outcomes you've been warned about.
That confidence makes you feel safe. You feel secure.
Yes, this is an unexpected situation, but "hey, that's ok. I'm cool." I see the problem. I know what to do. I've done this a million times before. I have experience. I have the knowledge that taking this action, exactly this way, is going to give me the results I expect, when and where I expect them.
I'm not guessing. It just works.
And if it doesn't, I'm sure I'm going to know instantly that I need to take another action. I can directly see the results of my actions, and I know how much more or less of what I know is required I need to do to keep things on track.
It's a loop, remember?
The actions are implemented through the organization's controls, regardless of what type they happen to be. The specific controls have been selected because you know exactly what they're for and you know exactly how they work. When you activate them, you know exactly how much influence they'll have over observed deviations in your expected outcomes.
How do you know they work? How do you know how much influence they have?
Because you see it. You see it through your monitoring and measuring of your internal and external environment. You evaluate the performance over time. When you see things aren't working as well as you expect, you have the information you need to make changes in where and when the controls are activated so you continue to get the results you expect.
When you press the brake pedal on our Veyron, do you expect the car to eventually stop, or do you expect the windscreen washers to activate? If you press the brakes and they start squealing, or they don't seem to be working quite as well as you expect – because you know the way they performed in the past – you replace them so they're ready for next time.
There's no guesswork. There's no doubt. You just do what needs to be done and then measure how well it works.
How can you expect to deliver exceptional performance when you have no confidence your controls actually work?
Engineering can be complex, but it's a defined process. You don't have to guess whether you can deliver exceptional performance or not. You just need to do what's necessary to make sure you can—specifically to achieve your own goals and objectives, in your specific business environment and within your unique culture.
It's the only way.
When you're ready to create exceptional performance within your own organization, give us a call or fill in the form below. We're here to get you on the right track.